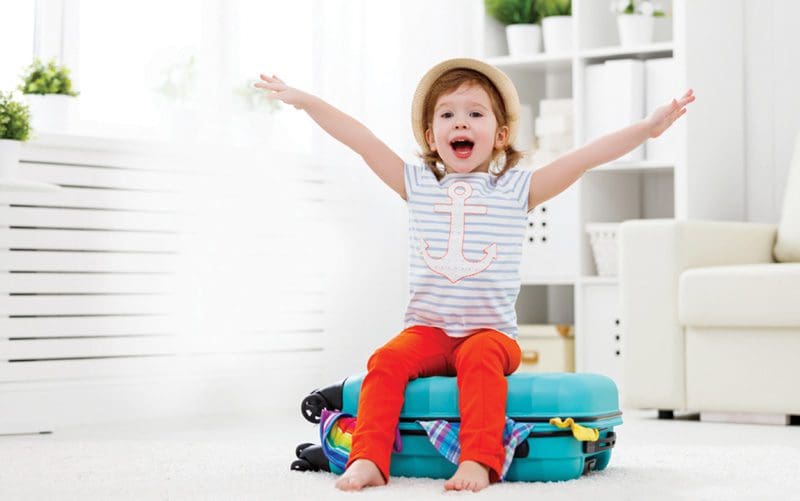 If you're planning a tropical getaway to Costa Rica, you're in for a treat. The country boasts stunning beaches, lush rainforests, and diverse wildlife that make it a top destination for adventure seekers, nature lovers, and beach bums alike. But before you jet off to paradise, it's important to pack the right gear to ensure a comfortable and enjoyable trip. Packing for a tropical vacation can be a daunting task, but with this comprehensive guide, you'll know exactly what to bring for your Costa Rican adventure. From clothing to tech gear, outdoor essentials to health and safety items, use this packing list to make sure you're fully prepared for your trip to paradise.
NOTE: Costa Rica does have plenty of stores with a lot of the essentials. 
1. Essential Clothing Items for a Costa Rican Vacation
Costa Rica is known for its humid and tropical climate, so packing lightweight, breathable clothing is essential. Here are a few items to consider:
Lightweight Clothing for Hot and Humid Weather
Consider packing lightweight, breathable clothing made of fabrics such as cotton, linen, or rayon. These materials allow air to circulate, which helps to keep you cool and comfortable. Shorts, tank tops, and sundresses are all great options. You may also want to bring a light jacket or sweater for cooler evenings and unexpected rain.
Swimwear for Beaches, Waterfalls, and Hot Springs
With plenty of beaches, waterfalls, and hot springs, swimwear is a must. Bring a few different bathing suits so that you can switch them out as needed. Don't forget a cover-up or rash guard for sun protection.
Footwear for Hikes, Walking, and Water Activities
For hikes and walks, pack comfortable, sturdy shoes or hiking boots. Water shoes are also a must for water activities like kayaking, rafting, or simply wading in the water. Flip-flops or sandals are great for walking around town or heading to the beach.
2. Tech Gear and Accessories to Bring to Costa Rica
To capture all the amazing sights and sounds of Costa Rica, you'll want to pack a few tech gadgets and accessories:
Camera and Accessories for Capturing Costa Rica's Natural Beauty
Costa Rica is known for its stunning natural beauty, so a camera is a must. Consider packing a high-quality digital camera or GoPro, along with extra batteries, memory cards, and a tripod.
Waterproof Cases and Dry Bags for Water Activities
If you plan on taking your phone or camera with you on water activities, be sure to pack a waterproof case or dry bag. This will help protect your devices from water damage. It does rain here so be prepared.
Portable Chargers and Adapters for Staying Connected
To stay connected while on the go, bring a portable charger for your phone or other electronic devices. You may also want to pack an adapter to ensure you can charge your devices with different types of outlets.
3. Health and Safety Items to Pack for Your Costa Rican Trip
It's important to take care of yourself while on vacation. Here are a few items to consider packing for your health and safety:
Insect Repellent and Sunscreen to Protect Your Skin
Costa Rica is home to a variety of insects, including mosquitoes, so insect repellent is a must. Sunscreen is also a must to protect your skin from the harsh tropical sun. most restaurants and bars have bug spray that you can use
First Aid Kit for Minor Injuries and Emergencies
Pack a small first aid kit with bandages, antiseptic, and pain relievers in case of any minor injuries. Also, consider packing motion sickness medication if you plan to go on boats or bumpy roads. Benadryl is a must have item.
Prescription Medications and Vaccinations to Consider
If you require prescription medication, be sure to bring enough for the duration of your trip. Additionally, make sure you have any necessary vaccinations before traveling to Costa Rica.
4. Outdoor Essentials for Exploring Costa Rica's Natural Wonders
Costa Rica's natural beauty is one of its biggest draws. Here are a few items to consider packing for outdoor adventures:
Daypack for Hiking and Day Trips
For hiking and day trips, pack a small daypack to carry essentials like water, snacks, and sunscreen.
Hiking Gear for Exploring Costa Rica's National Parks
If you plan to explore any of Costa Rica's national parks, bring sturdy hiking shoes or boots, a hat, and a comfortable backpack. A walking stick or trekking poles can also be helpful, particularly if you plan to hike up steep inclines. Don't forget a cantin or a product like a camelback water pouch
Binoculars and Field Guides for Wildlife Watching
Costa Rica is home to a stunning variety of wildlife, from colorful birds to playful monkeys. Bring a pair of binoculars and a field guide to help identify the different species you encounter.
5. Must-Have Beach Accessories for Your Costa Rican Getaway
When it comes to packing for your tropical vacation in Costa Rica, don't forget to include some essential beach accessories! Here are some must-have items to make the most out of your time on the sand and waves:
Beach Towels and Blankets for Lounging
Pack a few lightweight and quick-drying beach towels to dry off after a swim and to keep sand off your body while lounging in the sun. You can also bring a light beach blanket to create a cozy spot for reading or napping under the shade of palm trees. Some accommodations provide beach towels for your use.
Sun Hats and Sunglasses for Sun Protection
Costa Rica is known for its sunny and humid weather, so be sure to pack a wide-brimmed sun hat to protect your face and neck from the strong UV rays. Don't forget to bring polarized sunglasses to reduce glare and protect your eyes from the sun's harmful effects.
Beach Games and Toys for Fun in the Sand and Waves
Staying active on the beach is essential to fully enjoy your Costa Rican vacation. Pack some beach games like frisbees, volleyballs, and paddleball sets to play with your family and friends. You can also bring some inflatable toys or snorkeling gear to explore and have fun in the waves.
6. Packing Tips for Traveling to Costa Rica
Packing for a tropical vacation in Costa Rica can be a bit tricky as you want to make sure you have everything you need without overpacking. Here are some packing tips to help you prepare for your Costa Rican adventure:
Maximizing Luggage Space and Weight Limits
To save space in your luggage, roll your clothes instead of folding them and pack them tightly in packing cubes or compression bags. Also, leave some extra space in your luggage for souvenirs or shopping. Check your airline's baggage policy beforehand to avoid any extra fees due to overweight or oversized luggage.
How to Pack for Different Types of Activities
Costa Rica offers a variety of activities that may require different types of clothing and gear. Be sure to pack for the specific activities you plan on participating in. For example, if you plan to do some hiking, bring sturdy hiking boots and lightweight clothes for easy movement.
What to Leave at Home to Avoid Overpacking
Avoid overpacking by leaving unnecessary items at home such as bulky hairdryers and toiletries, too many pairs of shoes, or heavy jackets. You can also purchase some of these items in Costa Rica if needed.
7. What Not to Pack for a Costa Rican Vacation
While it's important to pack all the essentials for your tropical vacation, there are some things you should leave at home to ensure a stress-free trip: Consider twice or three times if you will really use an item. In the case of sports items, you might be able to rent them here.
Expensive Jewelry and Valuables
Avoid bringing flashy, expensive jewelry or other valuable items that can attract unwanted attention. Instead, pack some simple and practical accessories that won't weigh you down and can be easily replaced.
Unnecessary Electronics and Devices
While it's tempting to pack all your electronics for entertainment or work, focus on bringing only what you need. For example, a phone, a camera, and a portable charger should suffice.
Heavy and Bulky Items That Are Difficult to Carry
Reconsider bringing heavy or bulky items like large books or heavy-duty gear. Instead, opt for lightweight and collapsible items that won't take up too much space in your luggage or be a hassle to carry around. By following this packing list, you'll be able to enjoy everything Costa Rica has to offer without worrying about what you left behind. Whether you're exploring the lush rainforests, lounging on the beaches, or soaking in the hot springs, having the right gear will help you make the most of your tropical vacation. So pack your bags, grab your sunscreen, and get ready for an unforgettable adventure in Costa Rica!
FAQ
What's the best time of year to visit Costa Rica?
Costa Rica has a tropical climate, so it's warm all year round. However, the dry season from December to April is the most popular time for tourists to visit. The rainy season from May to November can make outdoor activities more difficult, but it's also when the landscape is at its greenest.
Do I need to bring cash or credit cards to Costa Rica?
Most restaurants, shops, and hotels accept credit cards, but it's always a good idea to have some cash on hand for smaller purchases and tips. The local currency is the Costa Rican colón, but US dollars are widely accepted and sometimes preferred. Also please note that a 10% tip is included on your bill in restaurants and bars.
What kind of shoes should I bring?
You'll want to bring comfortable shoes that are suitable for your planned activities. If you're planning on hiking, sturdy hiking boots or trail shoes are a must. For beach activities, sandals or water shoes are a good choice. If you plan on doing some city walking, lightweight sneakers or comfortable flats are recommended.
Do I need to bring a voltage converter for my electronics?
Costa Rica uses the same electrical outlets and voltage as the United States (110-120V), so if you're coming from the US, you won't need a voltage converter. However, if you're coming from a country that uses a different voltage, you may need a voltage converter to avoid damaging your electronics.
Are you ready to book your trip and pack your bags for a great adventure?