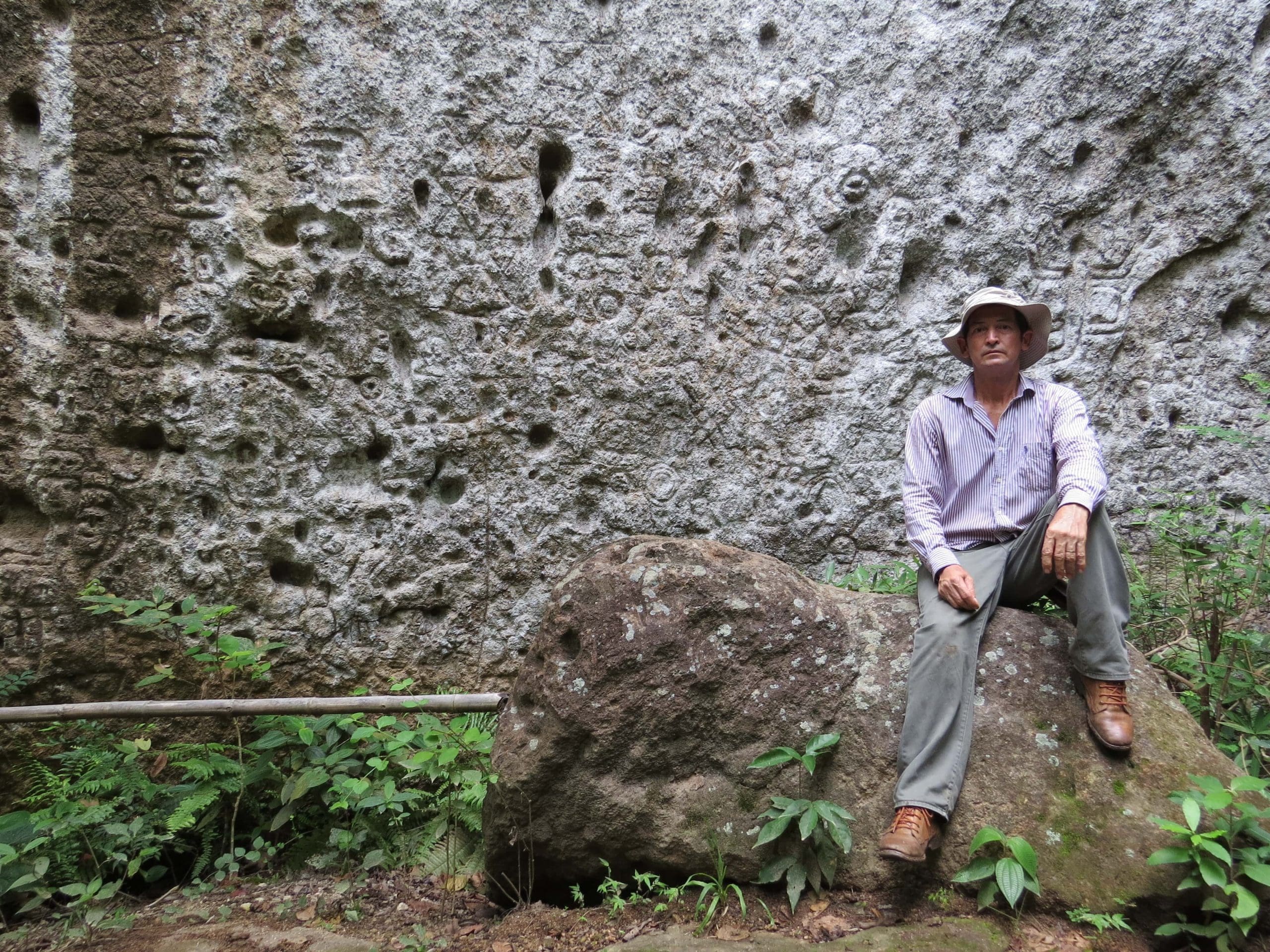 There is a place right outside Cañas, Guanacaste, where you can be transported not once, but twice, back in time and many would say that you can even have a spiritual connection to the past and nature. 
El Farallón National Monument Costa Rica is located on the vast Las Lomas finca of the López Monge family. It's a site you must see for yourself. The massive rock petroglyphs (drawings on rock face with incisions) provide insight into an extinct civilization, while the farm itself is a beautiful reminder that happiness is where the home is.
The time travel begins when you navigate the typical rocky roads of Guanacaste and come to the finca's entrance on top of a vast mountain overlooking valleys and rivers with a spectacular view of Tenorio volcano. Here you enter the gates of the Las Lomas finca and come upon the amazing family farm with an orchard, cattle, stables and a farmhouse steeped in history.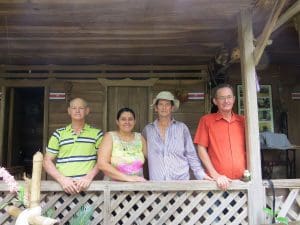 The López Monge family settled on this land in the 1950s, building each of the farm structures by hand. Three of the nine siblings, Elías, Juan, Mariano and his wife, Giselle Elizondo, still live on the farm.
As you walk down the wooded path, guided by one of them, to the rocky riverbed of the Cabuyo River, you can feel a sense that you are more a part of this family and nature than just a visitor. With El Farallón on your right and the Cabuyo River on the left, you enter your second time travel.
El Farallón is a massive wall, approximately half a soccer field long and nine stories tall, with engravings from the Corobici people. This rocky riverbed of ignimbrite rock, created from volcanic activity millions of years ago ,was the home of this reclusive tribe of people who lived here over 1,500 years ago.
The artwork varies from animals to geometric shapes to celestial beings. You can see deep divots that are believed to have provided grounding for some type of scaffolding. The elusive Corobici people may have picked this place because it was protected and the rock was a perfect muse for their art.
As you look up at the massive wall you begin to see a variety of image engravings. Do you see a face? An animal? A person? A sun? The images spring out at you, and then fade away, almost like your soul needed to see them to put your own story together.
"You need to find your own wisdom in the rock," Mariano says. "Each time I come here, I see something new. I find a different story." He says that he prefers that people find their own images and develop their own interpretations instead of relying on him to show them. His family feels this place is spiritual and the Corobici people used this area for religious ceremonies and to communicate to the tribe. The echo reverberates quite far down the river walls.
As you sit there in peace, with the river flowing behind you, wind touching your cheeks, looking up at these drawings from people who sat in the same place 1,500 years ago, you get a sense that we are all connected by what is important to us, people and the earth. Maybe the Corobici people were telling us that time really is just a placeholder for our souls, and nature is an avenue for experiencing what is around us. At least that is the story we experienced on our visit. Maybe next time our story will be different.
Things to Know When Visiting El Farallón
You must call the family at least 24 hours in advance to arrange a tour. In the interest of safety, it is not recommended for children younger than teens. Only small groups of people are allowed at one time, and sometimes you can dip into the river. The family only speaks Spanish.
Cost: ¢3,000 ($5.30)
Contact: (506) 2200-0073
Access: Via Arenal (route 142) or Liberia (route 1).
You will need an SUV, 4X4 or truck to navigate some of the rocky terrain and a couple of small water crossings.
What to Bring: Water, snacks, hiking/water shoes, camera, organic bug spray, swimsuit
Land Information: In 1998, the Ministry of Culture and Youth declared El Farallón a National Monument, with 100 of the 240 hectares of Las Lomas subject to the Payment for Environmental Services Program (PSA).
Surprising details: We found that if you took a photo with your camera and looked at it, you could see details of the petroglyphs much better.
See this article in the magazine:
Enjoy the audiovisual story!
Try the puzzle.
Click on lower right box to enlarge.
I am raw html block.
Click edit button to change this html