Nestled within Rincon National Park, at the base of Rincon Volcano, you'll discover Vandará—a hidden gem that promises an authentic Costa Rican escape, exploration, and adventure.
With convenient access spanning over 350 acres, Vandará offers awe-inspiring vistas of volcanoes, natural thermal pools, treetop canopies, cultural encounters, and more. It's the ideal setting for reconnecting with nature and embarking
on an unforgettable journey. 
At Vandará, our guests have the freedom to curate their experiences with two convenient passes. The Vandará Nature Pass is tailor-made for those seeking relaxation and a deeper connection with nature. Our most beloved option is the Vandará Explorer's Pass, granting guests access to every activity at Vandará, accompanied by a highly trained and experienced guide.
With the Vandará Nature Pass, guests traverse a hanging bridge to rejuvenate in an array of natural thermal pools and delight in the base of a waterfall. The soothing mineral mud gently applied to faces and bodies, is an integral part of the Vandará thermal springs experience. This volcanic mud possesses healing properties, leaving the skin feeling soft and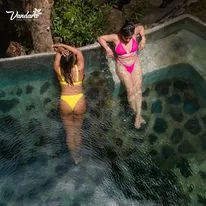 refreshed. While traversing hiking trails or exploring Vandará's organic garden, be on the lookout for vibrant birds and playful monkeys. During the cultural experience, you'll have the pleasure of meeting Carmelo and engaging in hands-on activities, learning about coffee and sugar cane, and savoring local desserts cooked over an open fire.
As for our guest favorite, the Vandará Explore Pass, it offers unrestricted access to all that Vandará has to offer. Many guests commence their day with a scenic horseback ride along picturesque trails, followed by a traditional treetop canopy tour that carries you over the Tizate River. You can also hike through a profusion of orchid trees and relish an exhilarating jungle waterslide, the longest in Costa Rica.
Guests relish the freedom to enjoy Vandará at their own pace, arriving and departing at their leisure throughout the day. Both passes come complete with a complimentary lunch, coffee, fruit beverages, and convenient parking.
Vandará takes pride in cultivating a variety of fruits and vegetables in its onsite organic gardens and orchards, enhancing the traditional lunch that customers savor.
Here's what to bring for a full day of fun at Vandará:
– Comfortable, quick-drying attire
– Bathing suit, sunscreen, and a sun hat
– Sturdy closed-toe walking shoes
– Flip-flops or easy-off sandals for hot spring visits (lockers are provided)
Vandará, nestled amidst the Rincon National Forest and the Rincon Volcano region of Guanacaste, Costa Rica, offers a rare opportunity for travelers to rediscover nature and themselves. Whether you're hiking, exploring, or immersing yourself in rejuvenating thermal pools, Vandará guarantees an unforgettable experience for all. So, make your way to Vandará and let this hidden paradise envelop you in its splendor. Disconnect from the chaos of daily life and reconnect with the wonders of the natural world—an authentic Costa Rican adventure awaits.
Don't delay; plan your visit to Vandará today! It's bound to become one of your most cherished days in Costa Rica! #howlermag #howlermagazine