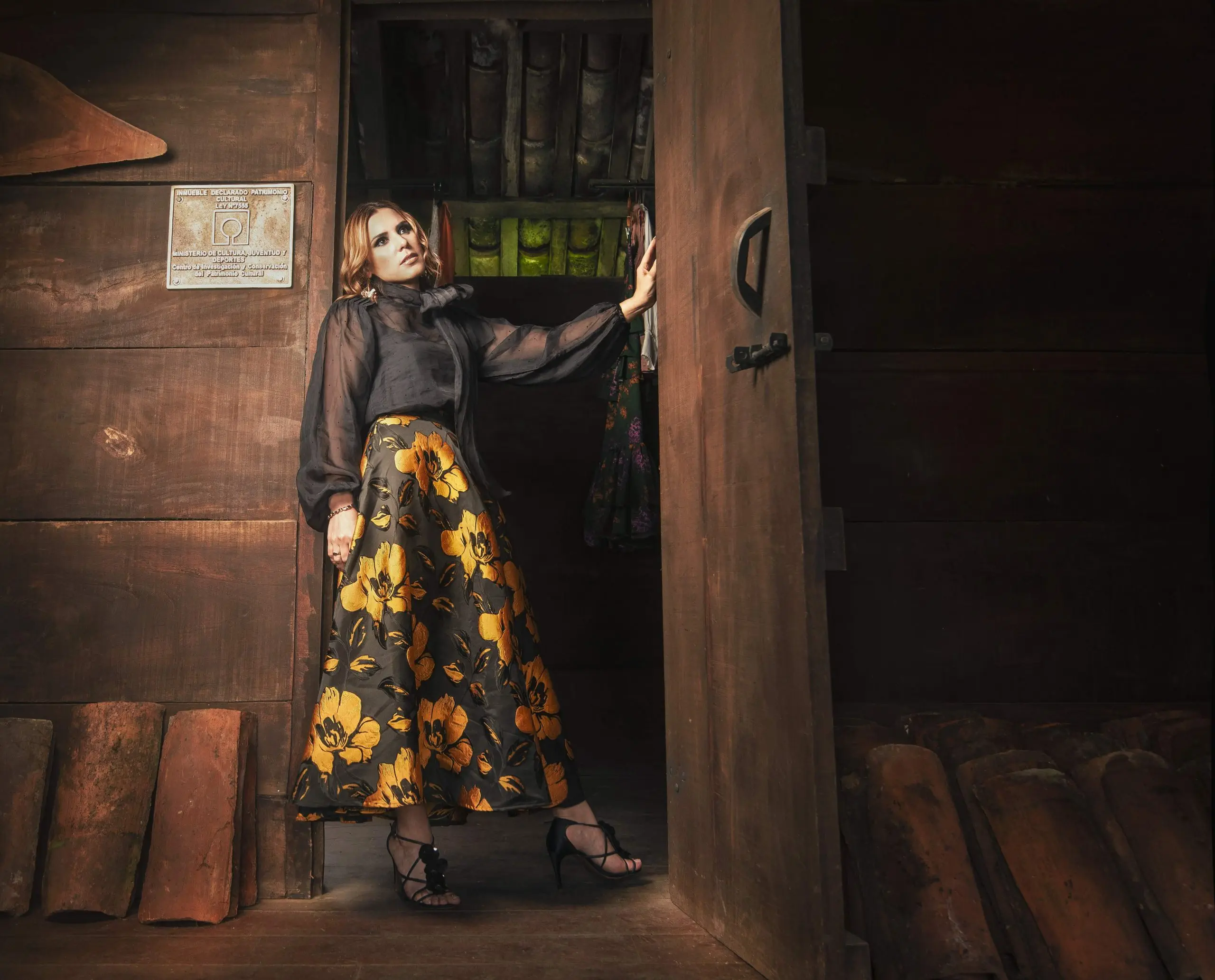 We cut through the mist that burnt away the moment the farm house appeared over the rise, way up the mountains of Coronado with San José below. Built in 1855, with wooden planks and roof tiles molded from workers' thighs, two rooms, one for the family and the other for animals, stood firm while the city clustered down the valley. 
Karina made a call inside her hybrid Lexus. I couldn't tell if it was running or not. Clouds rushed past and the sun felt like it was inches away. An old man came with keys and opened the gate. Then we followed him to the house. 
"When we were little we could hear the jaguars tapping their paws at the door while our father was away hunting sometimes for days," the old man told us.
A different time as I looked on at the transmission tower to the north and a cellphone site to the west. We unpacked the gear for the shoot. 
"I always wanted to shoot here one day. I came here as a child but never went inside," Karina said. 
Hazel Montenegro, the photographer, was setting up, Cindy Torres, the makeup artist, got her makeup out and Karina's son Daniel didn't miss a beat. 
Childhood fascination
Karina Díaz was born on the other side of the valley in a small house like this one. She was raised by her single mother with five kids. Her mother did what she could to feed them. As a child, she had always been fascinated with fashion and art. She would arrange her dresses by color and decorate them to make them look better and reflect her style.
In her early teens, Karina went to a boarding school run by nuns, where she stayed for six years. It wasn't the boarding school where one imagines children of the affluent, but rather the opposite — children of the neglected and abandoned. 
"It was a hard choice for my mom. But it was the best choice at the time," Karina said, while Cindy put on her makeup. There, Diaz studied the arts and fashion design and it was there that the nuns taught her how to sew. 
After graduating, Karina worked where she could and started her own businesses, learning as she went along. In 2000 she married at 20 and had a son, the first of three. Later returning to her passion in fashion design, she created her own personal brand and set out to help and uplift other women through her work.
Diaz met the Minister of the Department of Justice and Peace and came up with a proposal to help incarcerated women. The majority of them had been convicted for drug offenses, and a fraction for violent crimes, often in response to physical and sexual abuse. It was an experience that left an indelible mark on Karina's life. She couldn't believe what these women had lived through. Their stories inspired her and touched deep in her heart. For months, she visited the women in the prison to create her first collection of accessories.
Together, Karina recalled, these women found purpose in the process of helping prepare the collection, also generating income for their families while breaking their routine. The work was fulfilling, and in 2019, Diaz received an invitation to present the collection at New York Fashion Week. The happiness and pride on the faces of the women who had made it possible were rewarding. 
Dedicated cause
From that moment on, Karina decided to dedicate her life to fashion with a cause. In 2019, she was given the opportunity to buy the Costa Rica Fashion Week franchise from the Camera Nazionale della Moda Italiana (Italian Chamber of Fashion). It was a new experience and Karina was driven. A year later, the pandemic hit, taking everyone by surprise. 
In 2021, Karina had a small production team to put together the first virtual edition. Her goal is to help designers through every facet of production while positioning Costa Rica internationally. She also aims to make fashion more inclusive and accessible, and most importantly, sustainable and regenerative. 
"In Costa Rica, Fashion Week is just a show and nothing else," she said. "And I want to do something different, more like the shows in Milan or Monte Carlo that are the end result of a functional business model that impacts the local and international community." 
Hazel began to shoot. Between the clicks of the camera Karina reflected, "Little by little everything is falling into place. We're building a platform with a consistent message of ethical, sustainable and regenerative fashion. The CR Chamber of Fashion and Design does just that while promoting dialogue and empathy and collaborating with other industries like the arts and entertainment, music and film."
Watching Karina posing and changing outfits, I thought about the little girl with her old dresses and muddy rubber boots dreaming of one day designing collections of her own. I felt inspired and convinced that Karina is doing this not for herself but for all of us. 
The Osa Peninsula area is my favorite part of Costa Rica, so I happily accepted an invitation in December 2020 to visit Puerto Jimenez with a group of friends. 
My trip highlights, shared with insider tips, are meant to encourage Howler readers to plan your own getaway to paradise. I'm already looking forward to my next Osa adventure.
Our first full day in the peninsula began with a boat trip on the Pacific Ocean to see aquatic wildlife and sea birds. The adventure did not disappoint. Before long, the boat was surrounded by hundreds of dolphins, which swam by the boat for a long duration. We also saw sea turtles, a manta ray and many birds. 
That night, our group took a bioluminescent kayak tour. Immediately after setting out, we saw the gorgeous blue-green lights in the water where the plankton hit the paddle. Above us was a sky full of stars and below us, the entire sea lighting up from our paddles and hands in the water. It was pure magic … the magic of nature that is!