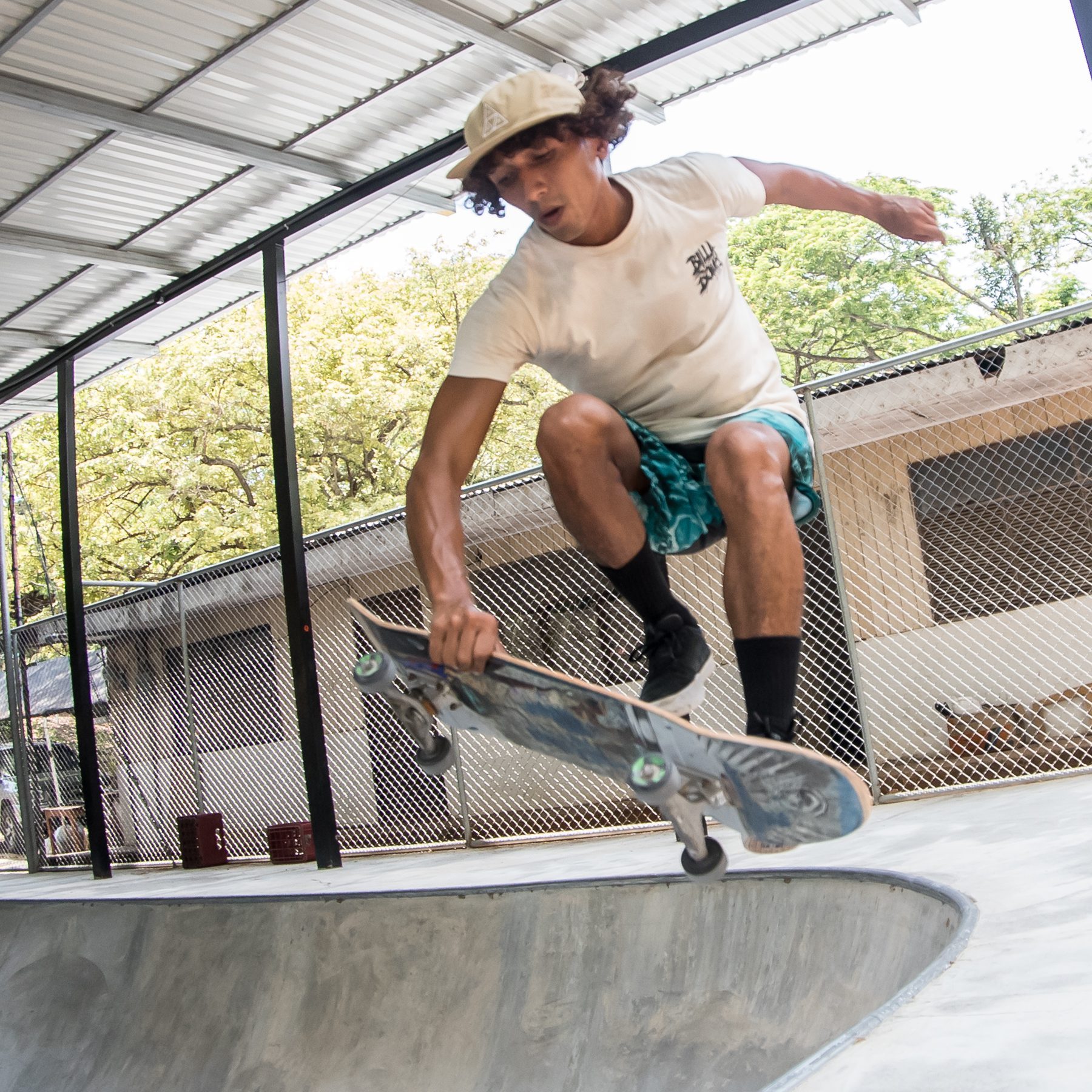 Bryan Zamora is a professional skater and skate coach from Nicaragua, who now calls Playa Grande home. It's the ideal place for the 26-year-old to ride waves and wheels both, as he's also a surfer. Besides working at Frijoles Locos Surf Shop, Bryan is the administrator of the local Bowl, LaRampasurfsk8parkcr.
Bryan has several sponsors, the main one being Testimony Skateboards in the U.S. Additional sponsorship support comes from the U.S. company AriZona Iced Tea, and in Canada, Raven 425 and Ripping Giraffe.
The story of Bryan's early life in Nicaragua is harrowing and inspiring. In sharing it with Howler readers, he believes the reasons for his skateboarding passion will be apparent and understood.
Photos by Perry Carlile
By Bartman
What is your full name and where were you born?
Bryan Rodriguez Zamora. I was born in Nicaragua.
What was it like growing up in Nicaragua as a kid?
Beautiful and at the same time very difficult, with great difficulties in life.  At a very young age, I was injured in an accident. The babysitter who took care of me, for some reason, threw me from the balcony of the second floor of my house. It opened my head in two, and my condition was between life and death.  
After that, I recovered; it was a miracle. I healed and I could go back to being a normal child. From the time I was little, I was a child who liked to take risks. I liked extreme sports from a very young age. Due to the accident, when I practiced extreme sports, my health was at risk.
I'm an only child. I come from a humble family, needing to fight hard for
dreams. My father is from Jamaica and my mother from Nicaragua. I grew up in a dangerous neighborhood in the middle of gangs, drugs, stealing and death. It was not easy to grow up and lead a normal life. Then, at 8 years of age, I had to endure the divorce of my parents. After that, I grew up without a father. I had 16 years of not having a father in my life. My mother gave everything for me,  so to speak. That event led me to channel and focus my feelings, my goals, and dreams in life. It was at 9 years of age that I "met" skateboarding. It was then that I discovered this was what I wanted to do for the rest of my life.
From a very young age, as a child, I had to learn to be a man … to work in order to help my mother and myself to be able to get ahead. After my father abandoned us, it was very hard for both of us. My mother and I were left without money, without food and almost without a home. It was there that I channeled the goals of my life, which would always be to get ahead regardless of the barriers of life, and to help my mother. She is the person who has supported me all my life to fulfill my dreams.
I have very good memories of my childhood. I am grateful to live, for the beautiful memories I have of the place where I was born and raised, and of my family and friends. I also have memories of the most difficult moments, but also of the best moments of my life, which made me the person that I am now — a survivor, dream fighter, motivator, skater, good son and disciple of God.
Did you feel happy and safe as a kid, growing up there?
Life in Latin America is difficult, especially in Nicaragua. It's a beautiful country but with poverty, and economic and political problems. I grew up in a humble home, but full of a lot of love and a good education. I thank the person who gave me life, because she was a father and mother in my life. It was not always easy for her to raise me, being a single mother. She was by my side in every important moment. She gave me affection and good advice, and always showed me the value of being hardworking, honest and disciplined in life. That is the key to making good decisions and persevering in your dreams and personal goals.
I grew up surrounded by bad influences in my life. I grew up living with gangs, stealing, drugs and death, but I always wanted different things. I never had an easy childhood, but I was happy in my own way, valuing hard work, goals, dreams and love. Mom has always pushed me to become a great example in life, to show all the people who never believed in me that I could get ahead … to be strong, tough and humble, with good values ​​and giving my best to people who need me. 
I saw one of my friends get killed for the vice of drugs. Gangs never caught my attention; I saw many people die for them. So the only thing I have known since I was little was sports. I was always looking for a place where I could fit in and dedicating myself to something, I tried many disciplines but none of them caught my attention until I learned about skateboarding. It was at that moment that I knew that was what I wanted for the rest of my life.
What made you leave Nicaragua?
As I have mentioned before, Nicaragua is a beautiful country, but with many economic and political problems. For decades after the last war in the '80s, led by a political party against the dictatorship of the Somoza family, there were years of peace. But everything changed on April 28, 2018, with the second war and civil insurrection. That was the day that the Nicaraguan people got tired and filled with indignation at abuses, arbitrariness, humiliation, corruption, inequalities, and also crimes always unpunished. It was the war cry of the oppressed people, asking for justice and dismissal of the FSLN political dictatorship that currently governs the country.
It was soon believed that it wasn't just because of the social security reforms. Ten years of denial of university autonomy, municipal autonomy, and democracy … of human rights violation — especially civil and political rights led to the eruption. The government's response to this unexpected and spontaneous insurrection, which caught them by surprise, was as clumsy as it was cruel, typical of a state terrorism policy.
For weeks the peaceful protests in the streets intensified, where thousands of young university students joined and raised their voices to protest for the restitution of social security reforms, for economic reform, and for justice. 
The government answered in the worst way that had never been seen in the history of Nicaragua, sending its armed police and military forces, with high-caliber weapons, against hundreds of unarmed civilians.
What we did not know is that the President had given the order to shoot to suppress the protests of the people and make chaos reign … to try to regain control and silence our voices in the fight for justice.
It was from April 20 that things intensified at the national level. Many young people had to take shelter in the facilities of university campuses throughout the country. These served as fortresses against the repression of the dictator Daniel Ortega and the repression of the armed forces, police and paramilitaries. They were persecuted, because anyone who was against the government was declared an enemy of the state and a terrorist. I saw many of my friends die at the hands of the police. I saw others being kidnapped and many more tortured and then shot and dumped in the streets.
May 30, International Mother's Day, was the day that changed the lives of many, including mine. It was the day that marked a great tragedy in Nicaragua's history. It was the day when thousands of Nicaraguans joined in one of the largest peaceful marches to confront the oppressive government for all the deaths and injustice it was committing. 
I remember that day I said goodbye to my mother, without knowing if I would see her again and without knowing the consequences of that decision would affect my life and my mom's forever. 
Once we were all gathered at the point to start the march, my friends and I heard a shot and saw a 15-year-old boy collapse to the ground in front of his mother with a bullet hole in his forehead and head. It was shattered into a thousand pieces by the attack of a sniper. That was when panic seized. We saw hundreds of policemen surrounding the different exit points. They began to shoot at unarmed civilians and massacre everyone. 
We began to run and look for where to take refuge from the attacks, as they shot at us with shotguns and AK47 weapons. I felt in a minute my life passing before my eyes without knowing if I would return home alive. So we took shelter in a university to protect ourselves from the attacks. Thanks to several friends, we were able to escape in a car. The police chased us to capture and kill us. We managed to escape from them and I was able to get home safe and sound. But I was shocked to see so many innocent people die in a cold and sinister way. Yet, I was grateful to God for getting out of that hell alive.
Several days after that event, I was at the house of some friends watching the news and knowing what was happening. We realized that the dictator decreed a law, which to this day is still in force: Everyone who is against his regime of dictatorship is considered an enemy of the state. That makes him a terrorist who is sentenced to be tortured and die without dignity. 
When we realized that, I went to my house to talk to my mother. When I arrived, some policemen were in front of my house. They came to sentence my mother and me to death, we were warned. It was at that moment that I knew I had to leave the country to save my mother's life and mine.  I had conclusive evidence that demonstrated the atrocities committed by the police and military forces of the government against unarmed civilians.
I remember that same night I made a publication on the social network best known and used by everyone, telling my story and asking for help to save my life and that of my mother. I remember that a person responded and told me, "I can help you if you say that God spoke to me and told me that I had to help you to save your life." 
I was in shock at first. I thought it was a joke and I told him that this was a serious matter. That person asked me, "Do you believe in God?" I said, "Yes of course I believe." He then asked, "What part of the world would you like to go to?"  I replied,
"I have never left my country." 
I had infinite options. Going to the United States was very complicated at that time, and going to Europe was very expensive. So I decided on Costa Rica, because I had some relatives there and it was also close to my country; in case one day things get better, I could return.
Where do you live now? And why?
I currently live in Costa Rica, in the city of surf's paradise, in a city called Liberia, Guanacaste province. I have lived here as a political refugee for two years. Currently, I live in a friend's house, I have no family, I don't have a job and I don't have a safe place to call home.  At any moment I could end up on the street.
I survive thanks to the support of a local church. I have also had some jobs, but nothing formal or stable. I have also had the support of friends and Christian ministries from the United States to get ahead.
I came to Costa Rica because my life was in great danger and I cannot return to my native country, Nicaragua. According to the present law of the ruler and dictator, if I am against the regime, I am declared an enemy of the state and considered a terrorist. That does not allow me to return to Nicaragua. If I try, the consequences are torture and death.
What are some of the heaviest things you've seen and had to deal with living in Central America?
The heaviest things I have experienced in my life are poverty, unemployment, living on the streets and not having anything to eat. They also include seeing the torture and deaths of my friends at the hands of the police and the military; the injustices against my people in my country; seeing innocent people die; being deprived of your freedom; and being expelled from your country under death threats. I've also been persecuted in another foreign country, at risk for having evidence against the heinous crimes that the government committed towards innocent people.
How do you deal with the challenges in life?
I am a survivor; I am a living miracle. That's because at the age of 16, I had an accident where my skull fractured. Without having money for surgery, the only thing I did was have faith and entrust my life to God. Officially I died and God gave me a second chance at life. Since then, I promised to take advantage of that second chance at life in a positive way and to serve the will of God.
When you have an experience like that in your life, everything changes. You appreciate life more — the time you share with others, helping others without expecting anything in return, loving your neighbor as yourself and loving God above all things. That's because when you die, you do not take anything but the memories of what you have lived,  and the people whose lives you have had a great impact on in a positive way.
I am a Christian skater; I am a survivor and disciple of God. My faith moves mountains. If God is with me, who is against me? I go through life sharing the best of myself to the world, without expecting anything in return. I am a person who helps those who positively need the most, sharing love and unity through skateboarding and the Gospel of Jesus Christ.
I have lived so many things that through these experiences, I can support and motivate others to understand the magnitude of what it takes to make the right decisions and also to understand God's love for each one of us. My spirit is unshakable because everyone who has been born of God overcomes the world. This is the victory that overcomes the world: our faith.
(Matthew 16: 24-25): Then Jesus said to his disciples: If anyone wants to come after me, deny himself, and take up his cross, and follow me. Because everyone who wants to save his life will lose it; and everyone who loses his life for my sake will find it.
How and when did you meet skateboarding? When was that?
I learned about skate when I was 9 years old, after my parents' divorce.  I was looking for a place where I could fit in, feel part of something by my own effort. Then I looked in different sports categories, but none of them made me feel a part of them.
It was through an acquaintance from school. Once I saw him riding his skateboard in the street and doing some tricks, that caught my attention. I saw that it was something unique, special, and extreme. It was from that moment that I became interested in knowing more about the world of skateboarding. 
After a few weeks of watching black and white videos on YouTube, I met with my friend from school to chat and learn more about skateboarding. I still didn't have a skateboard; he lent me his skateboard.  He told me more about the world of skateboarding, the prices of skateboards, their durability, which brands were best and the accessories needed to get started.
After that, I saw my first skate video, which was ¨Fallen Ride the Sky¨ in 2008. It was one of the videos that would change my life and motivate me to dedicate myself full-time to skateboarding.
Thanks to my mom, she was the first person who gave me my first skateboard. It was my birthday present. We went to buy it at the first and only store that existed in the country; it was called: Central Skateshop. At that time, skateboarding in Nicaragua was just getting started and not much was known about the skateboarding community yet. It was then that I met the first and only pro skater representing Nicaragua internationally, Chico Brenes. He was beginning to distribute quality skateboards and accessories to the Nicaraguan skateboarding community. He was the one who personally attended me and taught me how to assemble my first skateboard. I remember it was a Zero Chris Cole, one of my favorite skaters. He shared more about the world of skateboarding — the risks of the sport, the community, the importance of persevering, having the discipline and loving what you do.
After having that meeting, a flame inside me was lit — the passion, the adrenaline, the discipline, and the love for skateboarding. It would be part of my life completely.I I practiced every day after class and I knew since I had my first skateboard, the only thing I wanted to do for the rest of my life was skate and share skateboarding with everyone around me.
What makes skateboarding so special to you?
Since I was a child I have experienced being between life and death. Different events have been hard to overcome in my life, such as suicid and addictions, depression, not having a home and my parents' divorce. The divorce was the trigger to drive me since I was very young, to seek refuge in a place where I felt part of something, a place where I could escape from problems and the world, where I felt free. Above all, I felt part of a family and that's how skateboarding became part of me. 
Honestly, nobody prepares us for life; there is no manual to teach you how to live it. But skateboarding has taught me how to cope with the different stages of life. Skateboarding for me is: freedom, love, art, creativity, language, friendship, diversity, support, unity and family.  
God and skateboarding have saved my life, taught me to learn to love every hard process I faced, like bumps, falls, fractures, surgery, sweat and blood. It also taught me to believe in myself, when the rest of the people didn't believe in me, or that I would go far by loving what I do and what makes me happy. 
There is not a single day that I don't remember where I come from and what skateboarding means to me — that when you fall you have to get up again and keep going, until you manage to perform that trick that you dreamed about so much. It's the same in life; with discipline, dedication, sacrifices, passion and effort you can overcome every obstacle that comes your way. You go ahead of the daily problems until you manage to overcome them and win, making you stronger on the road and unblocking everything in your path.
Skateboarding is family to me. Wherever I go, even if I don't speak another language, there is the universal language of skateboarding, a game of skateboarding. That unites us instantly; we can share unique and wonderful moments with a person we don't know yet, because we don't know if we will see each other again. I take advantage of every moment to share, motivate and support the one who needs it. 
Skateboarding is, for everyone, that flame inside us that makes us feel free to ride your skateboard. You roll on, feel the wind in your face, listen to the wheels roll on the street, do some tricks and free yourself from every problem or situation you face in your daily life. 
God and skateboarding are all you need to be happy. Live one day at a time and don't worry about tomorrow, because every day has its own complications. Give your best without expecting anything in return and enjoy the freedom that skateboarding gives you.
Why would you want to skateboard forever?
Since I was a child I have grown up with skateboarding by my side. When I had no place to live, when I had nothing to eat or when I had no money, the only thing I had was my skateboard and my mom by my side. So that motivated me to give all my effort to fight in life and get ahead. I took my skateboard and went out to roll, looking for new opportunities.
It is what makes me happy; it has made me see the world from another perspective. Through skateboarding I have met wonderful people who have supported me, who I consider my family. God came into my life through skateboarding and gave me my purpose. Through skateboarding I have been able to help many people and share the message of Jesus Christ. 
Through skateboarding, I have been able to help children, young people and adults to understand more of the love and passion of skateboarding. To share with them in family times of quality skateboarding and share with them my story of how skateboarding and God transformed my life. In prisons, in slums, and low-income environments there have been wonderful moments to see how, through a skateboard,  you can be  happy and free, thanks to God.
When I got my first job, I used the money to help my mom, and the rest to buy shoes and a skateboard. Life is full of sacrifices, and skateboarding taught me to make sacrifices. When you really love something it's impossible to give it up; you keep fighting to fulfill your dreams. I've never stopped skateboarding. I've always kept a balance where everything fits in my life. 
After years of skateboarding, I managed to get my first sponsorship, and then things changed and improved in my life thanks to the dedication, discipline, effort, and above all, the passion for skateboarding.
I never want to stop skateboarding, because skateboarding is my life. It is part of my DNA. Skateboarding has saved me from many things: from death, from addictions, from the street, from depression, from the world we live in. Thanks to God and skateboarding, I am free from the programming that exists in the world. I'm free from what the world tells you: how you should be, what you should do, how you should live, and from the downsides of money, fame, and power. 
I skate because through skateboarding, I bring a message of hope, support, motivation, light and love to all those who have felt that they have lost their way in life. Through the support that the brands have given me, I can support many more people and encourage them to persevere in their dreams.
I will never stop skating because God through skateboarding gave me my purpose —  to go out into the world to make disciples and share His message of salvation to all who need Jesus Christ.
What is a perfect skate day for you?
A perfect day of skateboarding is: waking up early, motivated; having a place to call home; having a good breakfast; listening to some good music; having a skateboard and shoes in optimal condition; a sunny and clear day; then meeting up with some friends to go warm up a bit in the local skatepark, and then go skate some spots on the street.
Who have you ridden for? Who do you ride now?
I have skated for many national and international brands such as:
Nuggueteros Skateshop (Nicaragua), Huglifefineryco (Canada), Buena Onda Beach Resort (Nicaragua), BrushYourHair_Nicaragua, CatorceAlliance (Canada), Diakachimba (Nicaragua) and DrinkArizonaSkate (U.S.A Brooklyn). 
Now I skate for: TestimonySkateboards (U.S.A), UnitySkateshop (U.S.A)
Huglifefineryco (Canada), Raven_425 (Canada) and. Skater_Made (U.S.A).
Where would you like to take your skateboard … skate goals if there are any?
I would like to travel around the world sharing a positive message full of hope for everyone with the word of Christ. I'd take skateboarding to countries not yet reached, and also make social projects with skate schools, missions, prisons and poor neighborhoods, with children, youth, and adults. 
I would also like to support the development of the skateboarding community in my country and other countries like Cuba, Venezuela, Jamaica, Haiti and Africa, etc. 
One of my goals is to open my own foundation with the purpose of supporting everyone through skateboarding and social support programs. 
What else do you love in life? 
Other things that I am passionate about in life are surfing, art, dance, photography, creativity and graphic design. Those are things that always go hand in hand with what I do. I try to make everything flow and balance, combining each of these things. I love having a simple life, sharing with others knowledge, and having spontaneous and fun moments.
I am a spontaneous person, focused  and determined. I do not like to plan things, I just let them flow. I live one day at a time. I take advantage of every moment to share with the people around me who are important in my life. 
I like to surf whenever I can. The ocean is my second home; it relaxes me. I like to go out on adventures with my camera and take pictures. To be able to capture that magic moment, unique and special, to be able to develop it and tell a story to the world, is something that has no price. 
Whenever I can, I listen to music and let it flow. I like to dance a little and share some dance steps. I like to create, draw, paint, and agree on everything to make a single work of art that represents the way of being in my spirit. The world of graphic design allows me to express myself as I am creatively through digital platforms.
I also like to share with people who need and desire something more that can fill their lives, as is sharing God and his gospel. God for me is everything. I know what my identity is in Christ. The only thing He asks of each of us is to have faith and give our lives to him, because he has a great purpose for each of us, having a personal relationship with him through Jesus Christ. God is not a religion, but a personal God who frees us from the bonds of the world. 
Any thanks that you want to express? Anyone you want to acknowledge?
I want to thank God first because without him none of this would be possible. Secondly, I want to thank my mom, who was the first person to give me my first skateboard and who has taught me many valuable and important things. She has always been by my side, motivating and supporting me in every moment of my life. 
I thank the first skateshop of Nicaragua: Nuggueteros Skateshop gave me my first support and the opportunity to grow together, putting me on the map and making me known in the national and international skateboarding scene.
I also thank each of the brands that have supported me throughout my growth in my life as a skater, for their confidence, support, friendship and brotherhood. I am very grateful for their great effort and support, and also because they saw something unique and special in me, and my talent. That has made me grow to enjoy what I love most and what I love to do in this life — skating. Over the years, I have been able to make, with their support, my dreams come true.
Thank you to: Nuggueteros Skateshop (Nicaragua), Huglifefineryco. (Canada)
Buena Onda Beach Resort (Nicaragua), BrushYourHair_Nicaragua, CatorceAlliance (Canada), Diakachimba (Nicaragua), DrinkArizonaSkate (U.S.A Brooklyn), TestimonySkateboards (U.S.A), UnitySkateshop (U.S.A), Raven_425 (Canada) and Skater_Made (U.S.A).
I thank each of the people I have met in life and shared with each of them unique and special moments. Thanks to all my friends who have been close to me in my personal growth, motivating and supporting me in each of my life processes … also, in the most difficult and the best moments. Each of those moments that I have shared with each of you have left me wonderful memories and valuable life lessons that I am very appreciative of..
I want to thank someone special, who has become my family and have been supporting me in this difficult journey in the midst of the pandemic in Costa Rica. Christian Skateboarding Ministry: TestimonySkateboards have supported me in a unique and unexpected way, both emotionally and economically. They are the family I never had. God set my life to be part of something wonderful and unique, where I can continue to share Christ to the world through action sports.
 Thanks to Heidi Lemmon and Skater Made for giving me this wonderful opportunity to meet Bart Saric, skater, photographer, surfer, artist and filmmaker in a wonderful skate event like the SkateCentralAmericaTour. It was a wonderful, special and unique tour, where we shared a lot of skate with friends and family from different parts of the world.