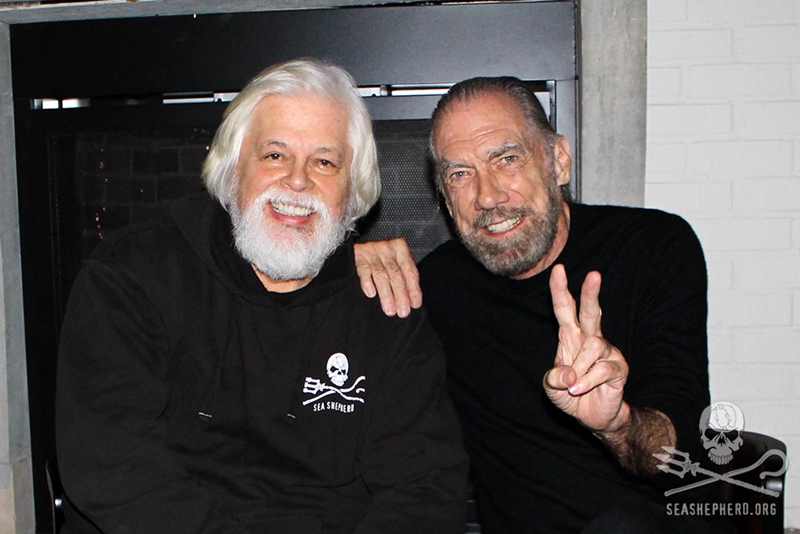 Howler Conversation with John Paul DeJoria
Sea Shepherd is one of many important causes championed by entrepreneur-philanthropist John Paul DeJoria. The self-made billionaire, who co-founded the Paul Mitchell hair care and Patrón tequila brands, recently spoke with Howler Publisher/Editor-in-Chief, John Quam. Below are excerpts from the telephone interview.
How did you get Involved with the Sea Shepherd organization?
A friend, Steve Wynn, called saying, "JP you must meet this Paul Watson. What they are doing for the dolphins is fabulous. I think you should get involved too." So I met Paul, found out what was going on and have been a supporter ever since. Not just financially but physically getting involved, spending a week living on the ship in the Saint Lawrence protecting the baby harp seals.
Will you have continued involvement here is Costa Rica?
Recently, I bought the Sea Shepherd organization a Coast Guard cutter so they could chase down the poachers. I am very aware of the poaching of shark fins in Costa Rica. The Sea Shepherd is tasked to camp out and chase the perpetrators, exposing the issues.
Tell us why you are praising China right now
I was informed by Paul Watson that China has done something great recently. No longer will they be serving shark fin soup at state functions. They are heading in the right direction. Now we need to convince the masses that they don't need to serve shark fin soup at their weddings or functions.
What can we do to promote awareness and voice our objections regarding the stripping of our oceans here in Costa Rica?
It is important that we all get involved on some level. If we are passive the profiteers will prevail and eventually leave us with nothing. Every voice counts. You need to write your embassies in Costa Rica and let them know we are not happy that this is being allowed. We also need to write to government officials, letting them know we are aware of them allowing these atrocities to take place. Letters should also go to the embassies of the countries represented by the groups of poachers.
HOWLER Readers Have Your Say
Please take time to write to the agency representatives and ambassadors listed, and share your letters with us. Don't forget to praise the Chinese for their stance in not serving shark fin soup at state gatherings, while protesting the use of sharks in general. Please be kind, knowing that sugar is better than vinegar for attracting attention and promoting positive reform.
Republic of Costa Rica
Sr. Presidente Luis Guillermo Solís Rivera
despachopresidente@presidencia.go.cr
Costa Rican Institute of Fisheries and Aquaculture (INCOPESCA)
Luis Gerardo Dobles Ramírez, CEO
ldobles@incopesca.go.cr
Jose Rafael Centeno Cordoba, Chief, Office of International Cooperation
jcenteno@incopesca.go.cr
Antonio Porras Porras, Director, General Technical
aporras@incopesca.go.cr
Foreign Embassies in San Jose, Costa Rica
United States
S. Fitzgerald Haney, Ambassador
info@usembassy.or.cr
ambsanjose@state.gov
Canada
Wendy Drukier, Ambassador
sjcra@international.gc.ca
China
Tang Heng, Ambassador
protocolo.embchinacr@gmail.com
Japan
Mamoru Shinohara, Ambassador
embjapon@racsa.co.cr
Embassies of Costa Rica Abroad
Washington, DC, United States
Román Macaya Hayes, Ambassador
concr-us-wa@rree.go.cr
Ottawa, Canada
Roberto Carlos Dormond Cantú, Ambassador
embcr@costaricaembassy.com
Beijing, China
Patricia Rodriguez Holkemeyer, Ambassador
info@costaricaembassycn.com
Tokyo, Japan
Laura Esquivel Mora, Ambassador
embcr-jp@rree.go.cr
embajadacostarica.japon@gmail.com
Please contact the counterpart embassy for your own home country in Costa Rica, and vice versa, if not listed above.