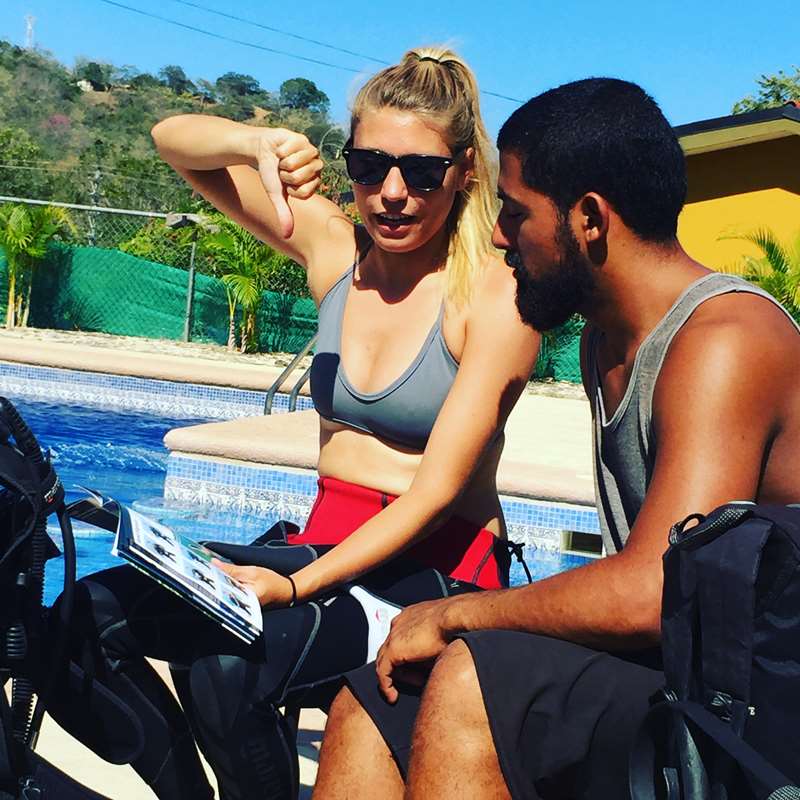 Discover Scuba Diving (also sometimes offered as a resort course) is a great way for one to experience how exciting scuba diving really is without a huge time or financial commitment. It is definitely classed as a thrilling adventure even though it does not include high speeds or high altitude. It is a slow and relaxing activity but at the same time for beginners it is extremely exciting and unique.
You need to be averagely fit for this activity. It does not feel like you are exerting yourself but some ocean conditions at the surface and under water can have you looking to catch your breath like you just walked up a steep slope. Also for scuba diving you will need to sign a medical history statement indicating that you do not currently have certain health issues or take medicines that could be contradictory to diving. You should check this medical statement before making a firm booking. Ask your dive center for a copy of the release forms.
The whole activity can be completed in a long morning over 5 hours, which includes your pool dive and up to 2 sea dives. You will begin with a poolside briefing from your Instructor, followed by a short and shallow pool dive to get you acquainted with the Scuba gear. You will perform some basic skills to prepare you for open water dives. These include clearing a mask, removal and clearing of your regulator and swimming around using fins while getting used to buoyancy control.
Following the pool dives you will head out on a dive boat to complete one or more sea dives with your Instructor. You will get to dive on real dive sites just like the other certified divers on your boat but you will be restricted to a maximum depth 10m/30ft. Your experience will be closely supervised by your Instructor and in most cases expect to be grouped with two to three other novices unless you booked a private course.
Costa Rica is an excellent place to try diving as there is much to see and for the most part the waters are favorable. Nearly all dive centers will offer Discover Scuba Diving or a resort course.
A couple of important things to remember: as you will be at sea for several hours, if you suffer from motion sickness, you should take appropriate measures well before getting on the boat, since Discover Scuba Diving is a non-certifying experience. To get certified as a scuba diver requires additional training.
WHAT TO EXPECT: A thrilling adventure outside your comfort zone, with amazing sites from the underwater world. For this experience you should expect to pay between $120 and $175.
WHAT TO WEAR: A bathing suit and a change of clothes is a must. Board or quick dry shorts or a surfing rash vest are also helpful. Lots of sunscreen!
NECESSARY PHYSICAL CONDITION: Averagely fit. Medical history statements are required.
NECESSARY ATHLETIC ABILITY: As you are planning to dive in the open ocean you should be able to swim and feel comfortable in deep water. That said you do not need to be a very strong swimmer but it helps.
WHAT WILL HAPPEN: Poolside briefings followed by a pool dive followed by supervised sea dives.
WHERE DOES THIS TAKE PLACE: Briefings and pool dive are at or close to the dive center; sea dives in real diving locations.